A Short Booklet About Women' Stress by Pravda Antonova
Pravda Antonova is a unique person. She has more than 15 years of experience in the fitness business instructing and helping many women to lose weight and be healthy and fit. Pravda Antonova participated in many aerobics and callanetic practices, dance and stretching workshops, weight and cardio trainings, physical and energetic exercises. Pravda helped many people by using Silva Method practices and healing, meditation and breathing techniques, aromatherapy and mudra practices, color therapy and color application for well-being and creativity development.
Pravda Antonova collected all important information about women's stress in a single book for you. You will learn how to relieve stress in your everyday activities, at home and even at work. You will discover many secret techniques that will keep you healthy and balanced for a more fulfilled life. The book is worth $19,90 but you can get it for free as a limited time offer. Do not wait any longer, download your copy now of this really helpful eBook!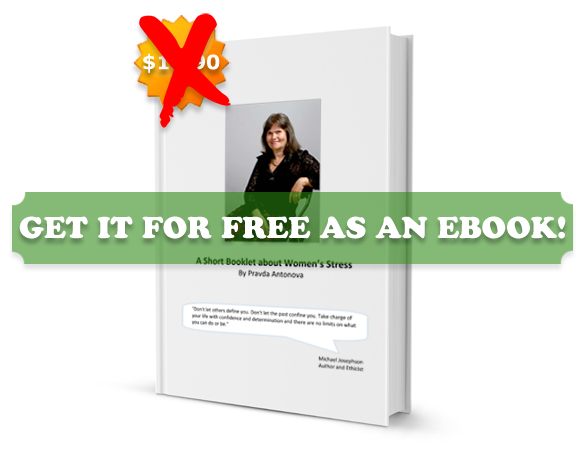 This eBook is written in English and contains 21 pages. You can share the PDF with family members and friends as long as it remains in its copyrighted form. By entering your email address you agree to receive our monthly newsletter. Your email address will be kept private according to the Privacy policy. Pravda Antonova would love to hear your feedback. Please do not hesitate to post your opinion and recommendations on the Contacts page.